olé today!
The Legacy of Hemingway
I'm going to go back a few days to a calm and peaceful afternoon on July 7th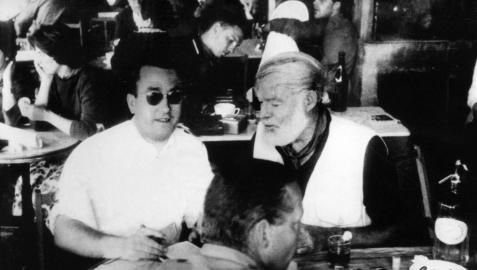 Actualizado el 12/07/2014 a las 06:01
As the fiesta-frenzy of the weekend rolls over us like a herd of bovine brothers set loose into the streets... I'm going to go back a few days to a calm and peaceful afternoon on July 7th. Because on that day I had the chance to do something I've wanted to do in a long time, with a few adaptions, due to time and logistics.

It was to recreate, in a very small way, something that Ernest Hemingway did back in the 1950's. It's something that other folk have done too of course over the years, and I've thoroughly enjoyed reading about them on various fiesta related pages over the last couple of years. Now I don't normally write about myself but I'm afraid on this occasion I can't avoid it as this

So just what was this Hemingway inspired idea that I've wanted to do for a while? Why, a picnic! Yup, that's all. A picnic. In the 1950's Hemingway and his friends would head up into the mountains for several hours and picnic by the River Irati, before getting back into town in time for the bullfight.

Ernest Hemingway in Pamplona during Sanfermines

And having read a clip from A.E Hotchner's book, "Papa Hemingway", about those picnics and how peaceful and beautiful it all sounded, I've wanted to do something similar for a while. Given the time constraints we didn't go too far out of town but just outside the city walls, to a lovely spot by the River Arga where tables and seats are provided for just this sort of thing.

But this was a Pamplona picnic so of course that makes it instantly special. More of which below, as having written this past week about fiesta and history and all sorts, today we're coming right up to date with something that really was, and I'm afraid I have to... a moveable feast and a bona fide treat. Of course, it would have helped if there was a Hemingway around to make it truly authentic and to provide a nice link from those days of 60 years ago to today...and do you know what? There was. In fact, there were two. His grandson John Hemingway and great grandson Michael.

Feast in the Afternoon

And so it was, on the 7th of July, after the earth-shattering event that is the Chupinazo and the first day of fiesta on the 6th, that the next day found a bunch of us down by the banks of the River Arga with a splendid spread of fresh food bought from the market to lay out and prepare, while a fine selection of wines and beers were cooling off in nature's natural fridge, the flowing waters of Pamplona's fair river.

Plaza People

I'm a very lucky lad and I know it. Even during my first couple of years here in the mid-eighties, spending all 9 days and nights in the Plaza del Castillo, with the daily trip to the pool to get clean, I always knew that once everything was over, I had a home to go to and a bed to sleep in and hot water to wash with.

But it's not like that for everyone and you can't fail to notice those in fiesta who look like they spend most, if not all, of their lives in the street. Think about that for a minute... to never, ever, have a home, and to know you'll always live outside, always have to look for cover when it rains or warmth when it's cold. To never know not just what is for breakfast, but if there is going to be any... and that morning coffee, even? Not even that...

For about 15 years now I've known a chap called Marco, and although he hails from Italy, he lives in Vitoria, just an hour away, and he travels the fiestas with his dog and his fire-breathing act, making the pennies where he can. He is not a "gypsy", he says, but a hippy.

I know how fortunate I am, and I'll say it again, what a lucky lad I am, because in my case

especially... there but for the Grace of God...

Feria or Fiesta Tale of the day

This is one from a while back but it's another particular favourite. 102 years ago...just imagine. Fiesta in Pamplona in 1912... oh how I wish we could travel back in time. One of Pamplona's famous sons was Ignacio Baleztena Azcarate, and he was many things in his lifetime. Writer, lawyer, politician, but above all a Navarran, immersed in the folk lore of his land. He wrote poetry and songs and music too, and one of his most famous songs was the words to the "Riau Riau", and the other one still sung even now are the words to the classic "Escalera" song, "Uno d'enero, dos de febrero..."

But he was also a bit of a joker, and one day, with his friend Emilio Malumbres, they would do something that would go down in fiesta history, and make them famous, not just in Pamplona, but around Spain. One morning for the bull run, they decided to have a laugh and entertain the crowds in the ring waiting for the bulls. They decided to dress up as colonial Englishmen and run into the ring, with Baleztena carrying a camera and tripod, which was actually made out of cardboard but very realistic looking, and his friend Emilio carrying a suitcase.

Now even in those days this sort of thing was frowned upon, and they had to hide from the chief of police, de Reta, inside the Hotel Maisonnave back when part of it was on the run, at the top of Estafeta. Once the encierro had begun, they did the "valientes" run and darted into the ring. There they ran to the centre and set up their gear. Cue general laughter all round. They must have looked quite a sight as Baleztena was tall and slim while his friend was short and fat.

While Baleztena proceeded to "film" the entering runners his friend put down his suitcase and began to direct, causing even more hilarity among the crowd. As the runners arrived faster and faster and in greater numbers, the crowd began to get more nervous until at the last possible moment the two friends abandoned their props and ran to the side and vaulted over the barrier.

The news went around Spain by all accounts and was talked about for years in the town. It still remains one of the classic Pamplona fiesta practical jokes ever and fifty years later the two were interviewed about it in this very paper.

Escape of the Day
The castle of Olite

A little cracker today. After having gone a fair distance out the last couple of days, let's come a little closer to home. Classical, classy, and oh-so-pretty Olite, this little gem of a town is just over 40km from Pamplona and is a doddle to get to by bus or car. It's only a small town so you can park anywhere around it and just wander in.

The main focus of the town is its fabulous palace... or castle... it actually looks like both at the same time. It dominates everything, of course, but complimenting something that was built so long ago- it was started and added to over the 13th to 15th centuries – are the surrounding narrow medievalstreets and it's hidden nooks and cranny's.

The palace is now a parador, (a hotel,) too, so if you can...what a place to stay. A friend told me it's wonderful, with its walls coated in medieval armour and the elegant four-poster beds, you feel somewhat knightly strutting the corridors. One day, perhaps, one day...But if like me you can't afford to stay there, not to worry as it's the perfect place to relax and have some lunch, have a wander around or if you have a car take a drive out to the countryside and the surrounding vineyards. I love Navarra and this wee town is an absolute favourite.

(Yesterday, especially for one particular fan of Pamplona and fiesta history, I asked what Pamplona's river, the Arga, used to be called. Well, it used to be known as the River Runa).