OLÉ TODAY!
And there it almost is, Finally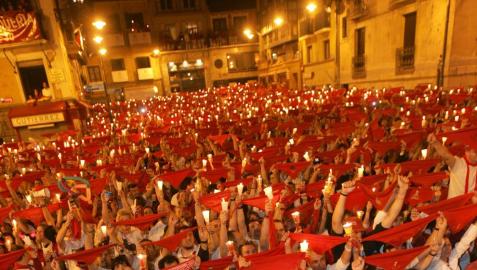 Actualizado el 14/07/2014 a las 06:01
And there it almost is, finally. As George Harrison wrote: All Things Must Pass. And so, fiesta enters its final day, and the hours slowly pass us by as the clock counts down to the midnight melancholy of the Pobre-De-Mi, and fiesta winds up to its beautiful but emotional end. We have lived and laughed and dined and danced and cheered and cried through this most fantastic and phenomenal of fiestas, and now it is almost over.

Just as there are sights everyone should be able to see just once in their life, from the daily yet wonderful things like a sunrise or sunset, to awesome events like a solar eclipse or the Perseids meteor shower, there are also places that everyone should be able to visit, if only once. And Pamplona, in fiesta, is truly one of those cosmic events that it would be wonderful if everyone could experience at least once in their lifetime.

The great Bomber, one of those foreigners whose elegance cruised over the cobbles of this mythical town and who now graces a table at the Celestial Peña up there among the stars, used to say, "Pamplona is a gift". And he was so right, as Pamplona is just the most precious and priceless of presents, and one we are privileged to be given.

So to those who give it to us, the people of Pamplona, and those that surround them, the folk of Navarra, I'd like to say this: Thanks to La Fiesta de San Fermin we are allowed not just to attend it, nor just to watch it, but to be a part of it and to participate in it. For nine glorious days and a thousand wonderful nights we are immersed in it until we emerge, dazzled, dazed but delighted at what we have had the immense privilege to experience.

Pamploneses and Irunshemes, San Fermin is a gift and fiesta is a marvel. And I have no doubt that you, as guardians of this marvellous jewel you have given the world, will look after it, and those Navarrans who surround you will protect and defend it forever. There is something beautiful, algo bonito, about it all and we foreigners are so very lucky to be a part of it.

Nacida en la Fiesta - Pamplona Girl

Off and on over the past fiesta-week I've mentioned various people and alluded to or written about events they've held. I make no apologies for bringing them onto this pages because they are not just very much a part of San Fermin, but also add to it. And for those who think: "Why all this extra stuff, you've already got fiesta, for sanfers sake"! Well, that's a good point.

But much of what happens officially now was never a part of fiesta in the first place anyway, but were unofficial side-shows. The obvious example being the Encierro, of course, while another one is the Chupinazo. Rockets being let off, unofficially, were first recorded in 1901 in the Plaza del Castillo by a bunch of friends. Forty years later, the idea was officially adopted by the authorities to herald the start of fiesta from the town hall balcony.

So now it's time to write about another friend of mine, but there's a very good reason to do so. I truly am blessed with the friends I have. They are the most eclectic mix of folk that you could possibly imagine. A veritable gazpacho guiri-mix soup of eclectic ingredients. Now, there are so many parties and picnics and lunches and dinners organised all through fiesta that they'd fill a book.

But I want to pop in a photo of one of them as my way of saying thank you to a very special and wonderful friend, without whom these pages wouldn't have appeared. A couple of nights ago a gorgeous giggle of fiesta fillies had a Ladies Night. If you've wondered who 'Chloe Drakari-Phillips' is, well, she's the editor of this journal and the one who organised it.

She is a very dear friend and one who has aided me immeasurably with these series of articles. Not only that either, but with many other things too over the last few years. She hasn't just gone the extra mile to help me out on occasion, but actually, to keep the theme going, done the marathon.

She sat with me all night in hospital once when I was in very serious trouble and she's been with me patiently by my computer while I've learnt nothing she's tried to teach me. If it wasn't for her I wouldn't have been able to publish a small book I wrote.

But, more importantly, is she a true Pamplona person and fiesta fan? Was she a suitable person to help me with this? Well, what can I say. She is as Sanferminera as they come. Not too many, if any, of us guiris can say they were here before they were born, but she can. In July 1991 while her mother was 6 months pregnant, she was here. As she says, her first fiesta was "when I was a bump". I honestly don't think it's blood that runs through her veins, but patxaran. The subtitle above means 'Born to Fiesta', and if anyone was created for this town and its party, it is this particular Pamplona chica.

So young Chloe organised a ladies night for her friends a couple of nights ago, and I can only imagine what they got up to, but I know it would have been done with the full respect of fiesta and in its finest traditions. Mostly. There are certain people I think of as Pamplona Royalty, (I know, I know, but I just do,) like Rolf von Essen who can't be here this year, or my friends Triple H and B Squared, or those originals of The Lost Peña... and Chloe is one of them.

So this is just my way of saying thank you so much, muchas gracias, eta mil esker Chloe, not just for your help with the Echo, but for everything. Your corrections with the grammar and punctuation has been so appreciated, and any mistakes still remaining are either mine, or deliberate. But your advice with some of the content and what I had written, well, that was just so vital and I really can't thank you enough. I have learnt some very important things and that has been invaluable.

Whatever happens between friends sometimes, I always have had and always will have the very best friends on the planet. You are like fiesta, all of you, and although I wrote this above, I'm going to use it again: amigos, there is something beautiful, algo bonito, about you. El Pobre-De-Mi? Oh no, more like el Suerte-De-Tim.

The Pobre-De-Mi 

The closing ceremony. How did it start? Quite simply really. It seems in the 1920's a Pamplonican, Julian Valencia, and some friends were seen walking down San Nicolas on the last day, in double file and holding a candle in front of them. And they were singing a song, "Pobre-de mi, pobre-de-mi, que se han pasado las fiestas sin divertir". (Which I translate as: Poor me, poor me, the fiestas are over with no fun being had.)

Well, it seems that over some years this joke of Julian and his friends actually became an official part of the ceremony in front of the town hall, and if one needed to invent something beautiful to mark the passing of something wonderful, you couldn't do much better than the Pobre-De-Mi, the now official end to the Fiesta of San Fermin. It takes place at midnight at the town hall, of course, but also, this being Pamplona, it happens all over town, too.

It's just a song people sing to themselves while candles are held aloft, affirming how sad they are that the fiesta is coming to an end. It's can be incredibly emotional. And yet... and yet. If you are one of those down at the Town Hall, among the flickering flames of a few thousand gently swaying candles held aloft by symphony of Sanfermineros singing that song, well, it must be one of the most truly touching tributes to something anywhere on the planet.

For those who are fortunate enough to be able to stay for the whole 204 hours, the end of it all can pull on the heartstrings like nothing else. Even after years or decades, occasionally it just hits you again. Why, it's been rumoured that sometimes even grown men, who have been going forever, have been seen with a tear or two in their eyes. But honestly, that was just something in my eye...

Part of the beauty and uniqueness of it, sad and melancholy though it be, is the happy second part, where the slow, selfish singing to oneself about how sad you feel gives way to a lively and jaunty tune where you sing with everybody the joyful realisation that as every second ticks by, next year's fiesta is coming closer... Ya falta menos! It doesn't translate, but I think of it as... the countdown is on!

I sometimes reckon that the Pobre-De-Mi is Pamplona's very own version of Auld Lang Syne. It's a farewell to something lost with the hope you'll see it again. It's sung for old time's sake because although you want to be back for fiesta next year, (ya falta menos – the countdown is on!) you just never know...

But when those rockets go off at midnight and the reverberations echo around the city, why I think it's done just to drown out the singing and laughter coming from the heavens, as those fiesta phantoms of San Fermins over the centuries try and tell us what some of us already suspect... that whatever happens to you, your heart and soul never really leave this most sensational of cities.

Fiesta or Feria Tale of the Day 

If you've actually just arrived in town today, then I'm afraid you've kind of missed the boat. Today as you may have gathered is the last day. Summed up by the Pobre-De-Mi, it is the day we say goodbye to everything else, too.

We say adios to Los Gigantes and their entourage, who proved that giants can indeed roam the earth again...they just need a bit of encouragement. And we say goodbye to the bullfighters and their teams, whose suits of lights somehow managed to brighten up even the sunniest of evenings.

We also say goodbye of course to the last of the bulls. Those bulls... such grand and brave beasts, who had no say in whether they wanted to come or not. Hemingway wrote: "They are not as intelligent as we who kill them; although they are more noble and more able". He was actually writing about the marlin in "The Old Man and the Sea", but that phrase applies so perfectly to the toro bravo.

And it's also the day we say goodbye to the peñas, who when they play out for the last time from the bullring with the crowds dancing in front and behind them, you know that, even though there are a couple of hours left, fiesta really is over. Pobre de mi.

Escape of the Day 

As I wrote a thousand nights ago on July 6th, "It's July 6th and the first day of fiesta and there is no escape". Well, the same applies today. It's the last day and I reckon that's no time to try and leave for an excursion, although that's just my way of thinking. But there are parks to explore and rivers to wander along, perfect escapes for a relaxing interlude, yet still either in town or very close to it to get back to the heart of things. And anyway, tomorrow, for many, is the great escape!